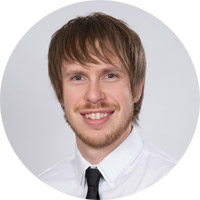 Say hello to CameronHe's our Web & Digital Production Manager
What are your specialities/qualifications?
I have always loved art (drawing and painting), design and building websites. This love led me to graduating with a Bachelor of Science (Digital Media) degree from Edith Cowan University.
When did you join the Spotty Team?
I joined Spotscreen in December, 2013.
What does being a part of the Spotscreen team bring to your life?
The opportunity to be creative and involved in projects I love, all the while knowing I'm contributing to saving lives across Australia. Our happy and friendly team members make working for Spotscreen even more enjoyable!
What activities do you like to do in your down time?
Spending quality time with my beautiful fiancée and our crazy little dog, kicking the ball around at the park, catching a West Coast Eagles game, going for a day drive into the country or travelling overseas somewhere (anywhere)!