Fitness Classes
Spotscreen offer a variety of fun and engaging group fitness programs to encourage increased fitness levels and general promotion of personal health and wellbeing. All programs are delivered by an experienced and friendly Spotscreen health professional.
Below is a selection of Fitness Classes your workplace can choose from;
Yoga Classes
Pilates
Boxing for Fitness (Boxercise)
Core Fitness (Core Moves)
Boot Camp and Outdoor Group Exercise
Stretch Classes
Meditation and Relaxation Sessions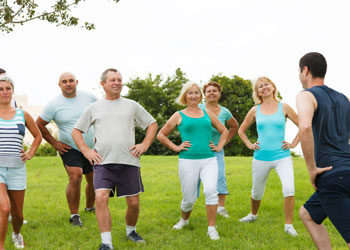 Fitness Consultations
A one-on-one fitness consultation provides participants with an opportunity to consult with a qualified and experienced Exercise Physiologist to discuss matters relating to physical fitness and exercise.
Further to this assessment, a 4-week Individual Exercise Plan can be put together to provide a detailed action plan for reaching the participants goals and desired outcomes.
Individual Fitness Consultations Include;
Personal and family health history
Physical activity assessment
Goal setting
Advice on lifestyle modifications
Nutrition information
Development of an action plan