Spotscreen Nutrition Programs
Spotscreen's range of engaging and informative nutrition programs help employees develop a healthier relationship with eating. Our programs are delivered by a Nutritionist and can be tailored to meet the specific requirements of your company and workplace demographics.
Workplace Nutrition Seminars
Spotscreen's Nutrition Seminars provide employees helpful advice on how to address the underlying factors of poor nutrition and how to incorporate a healthy diet into their lifestyle in a fun and proactive way!
Nutrition Consultations
One-on-one nutritionist consultations are designed to provide staff tailored advice on their nutritional intake requirements, based on their daily eating habits, health history and contributing lifestyle factors.
The Ultimate Shape Up
A health and fitness program that allows your staff to choose a nutrition and fitness goal they would like to achieve within a 12-week period. This program provides over 200 delicious and nutritious recipes for participants to enjoy!
Supporting Nutrition Programs
Our range of engaging workplace nutrition programs support your staff's health & wellbeing by helping them develop a better relationship with food. Programs include label reading sessions & onsite cooking demonstrations.
Nutrition Consultations
20-minute Individual Nutrition Consultation
Spotscreen's one-on-one nutrition consultations are performed by our friendly and experienced Accredited Nutritionist.
Nutrition consultations provide staff with expert personalised advice and education on how to improved their health & wellbeing with food. Prior to the consultation a detailed Nutrition Questionnaire will be provided to each participant.
During the consultation Spotscreen's Nutritionist will review the participant's diet and eating habits, offering professional recommendations on how they can improve their nutritional intake. This includes informing the participant on how to increase intake of good nutrients and highlighting the foods they should be avoiding or eliminating from their diet.
Participants will also have the opportunity to talk openly with the Nutritionist about any health concerns or explore an area of nutrition in more detail.
Each 20-Minute Consultation Includes:
Review of nutrition questionnaire
Discussion of current dietary health status
Detailed food and diet recommendations
Highlight areas of nutritional concerns
Provide recommended next steps and goals
Educate on simple tips & strategies for healthy eating
Handouts, recipe cards and take home resources
Valuable take home resources include:
Nutritious eating for everyday meals and snacks
Healthy food preparation and cooking methods
Making suitable choices when eating out
Reading and understanding food labels
Behaviour modification for long-term dietary change
Follow-up Nutrition Consultation (30 minutes)
Follow-up Nutrition Consultations are also available and include a 3 day food diary review to offer in-depth analysis of the participant's eating habits.
By conducting a follow-up consultation, a comprehensive nutrition & lifestyle plan can then be tailored specifically to the participant. This covers important areas such as health, weight and fitness goals, nutrition & lifestyle needs, food preferences, time and money factors and motivation level.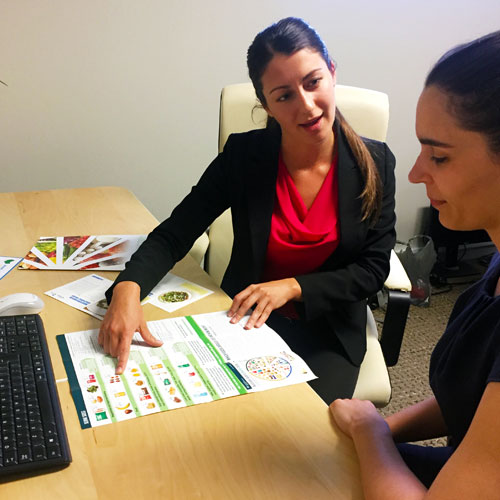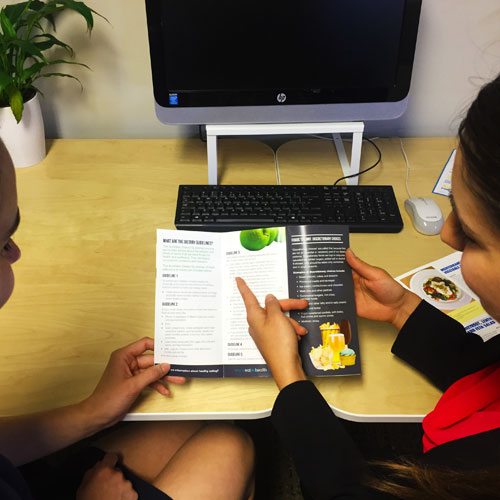 'Eat Right, Feel Light' Nutrition Seminar
1 hour incl. 15 minutes of questions
Spotscreen's 'Eat Right, Feel Light' Nutrition Seminar is designed to provide employees helpful advice on how to look after their mind and bodies through proper nutrition and diet.
This one hour interactive seminar includes:
Easy and fast ways of increasing nutritional quality of diet
Simple snacks that support healthy eating & exercise programs
How to read food labels
What adversely affects your nutrition?
Increasing metabolism with food
Portion sizes
Food allergies
Healthy meals on restricted time and budget
'Fun, Food and Fitness' Weight Management Seminar
1 hour incl. 15 minutes of questions
Spotscreen's 'Fun Food and Fitness' Weight Management Seminar combines engaging information regarding nutrition, healthy eating, exercise and goal setting to provide a holistic approach to healthy living and healthy weight management.
Seminar content includes:
Nutrition & portion sizes
Macronutrients, Carbs, fats, acids & protein
How much exercise do you need?
Simple & fun ways to increase your exercise
Targeting weight problem areas for men & women
Sleep & stress and their impact on weight management
Weight Management Goal Setting (includes tips & tools)
Where to seek additional resources & support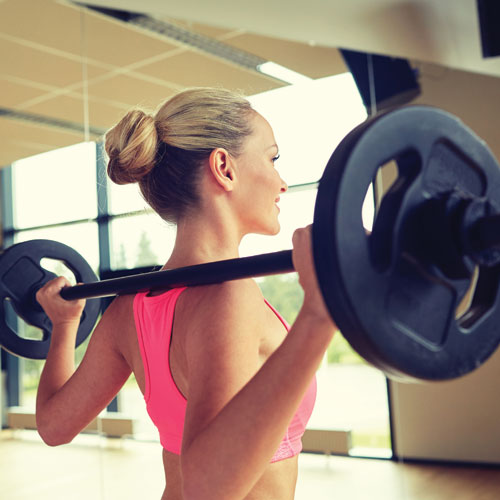 The Ultimate Shape Up
12 Week Health Program
Spotscreen's The Ultimate Shape Up health program is designed to encourage and motivate staff to make positive, simple changes to their lifestyle in order to improve their overall health, wellbeing and fitness.
Supporting Nutrition Programs
Want to learn to cook simple, delicious and nutritious meal options in a relaxed and social environment?
Spotscreen's Cooking Demonstrations will evoke the desire for home cooking in your workplace whilst educating the nutritional benefits of healthy food consumption. Eating well can reduce chronic disease risk such as heart disease and diabetes and can increase work productivity.
Our cooking demonstrations incorporate:
Cost effective, quick and easy meal options
Food Variety
Family friendly meals
Local seasonal produce/– summer and winter recipes
Recipe makeovers – Cooking a healthier version of the classic meals you love
The Australian Guide To Healthy Eating
Spotscreen will provide:
Experienced Nutritionist and cooking demonstrator
Equipment (Our portable kitchen)
Groceries/ Ingredients
Recipe Tastings
Take home recipe cards
Healthy Juices and Smoothies
This engaging and interactive cooking session gives you the opportunity to learn how simple it is to make delicious healthy juices & smoothies at home. Throughout this interactive session, you will be able to ask questions of the Nutritionist and receive helpful information & tips to use when making your own healthy juices & smoothies.
Label Reading Sessions
Want to know how to be Supermarket Savvy? This interactive seminar is designed to teach you how to decode a food label, so you can truly understand what makes up the food you eat. Learn about the key nutrients you should be aware of and how easy it can be to navigate a food label for an enjoyable shopping experience.
Spotscreen's nutrition-based programs have been designed to inspire and encourage staff to make positive and simple changes to their lifestyle in order to improve their overall health, wellbeing, fitness and quality of life.

References
Blackford, K, Jancy. J, Howat, P., Ledger, M. & Lee, A. (2012). Office-based Physical Activity and Nutrition Intervention: Barriers, Enablers and Preferred Strategies for Workplace Obesity Prevention WA.
Obesity and the Workplace (2011). Oxford University Press and Society of Occupational Medicine. Retrieved from occmed.oxfordjournals.org
The Risks of Poor Nutrition (2015). Department for Health and Aging. Retrieved from www.sahealth.sa.gov.au