Aussie Summer Barbecuing Made Easy
January 25, 2017
Posted by:

Spotscreen

Category:

Articles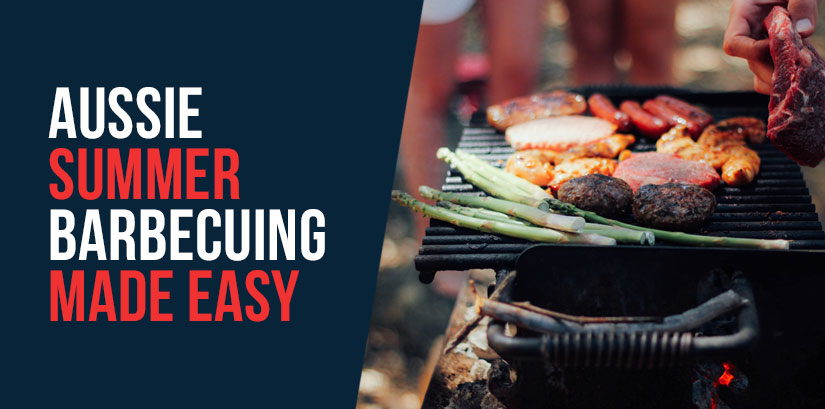 Better barbecuing
The good old barbeque is an essential part of the Aussie lifestyle. Whether it's the Friday get together or celebratory sausage sizzle, the barbeque is readily used in both the home and the workplace.
As a cooking method, barbecuing is a great choice, however the inclusion of high fat sausages and greasy burgers; not to mention the high salt sauces is where barbecuing falls short of being healthy on our waistlines and overall health.
Here are a couple things to remember next time you organise a workplace or family barbeque get together:
Top 5 Tips to a better BBQ
Cut the fat
Avoid high fat options of chops and sausages. Select reduced fat and salt sausages and burgers, try chicken or kangaroo alternatives or option for my favourite – Skewered lean meat with vegetables and fruit. Recipe Below.
Add Vegetables
Always include vegetarian options, alternatives can include;
Zucchini or lentil burgers.
Corn cobs with mustard
Grilled veg – eggplant, mushroom, zucchini, or sweet potato.
Tinned pineapple rings in natural juice
Homemade vegetarian slice
Go wholegrain
Swap out the white buns for wholemeal or multigrain options and avoid serving with butter or margarine – Who needs those extra kilojoules anyways!
Swap the Sauce
Option for a no added salt sauce and watch the sugar – BBQ and tomato sauces often have high amounts. Why not make your own by combining tomato paste with a little olive oil and your favourite herbs and spices.
Add a side
Salads are a great accompany to your BBQ, not only encouraging vegetable consumption but by bulking up your meal and reduce meat consumption. Why not try a whole wheat pasta salad, sweet potato salad or bean mix – try to avoid high fat supermarket coleslaws.
Finish up with some fresh fruit for a little sweet touch.
Fruit was made for grilling too. Why not try pineapple rings, watermelon with a splash of balsamic vinegar, peaches topped with a dollop of yoghurt to serve or grilled banana rolled in some shredded coconut. Mmmm… Delicious!