We Take a Closer Look
The difference between a detailed skin cancer screening process and a basic examination can literally be life or death.
Spotscreen's incredible screening technology is second-to-none in its ability to accurately scan moles and spots for early signs of skin cancer.
This means you and your staff have access to one of the most detailed onsite screening processes available.
While most providers use traditional skin screening processes (usually involves a standard visual inspection with or without the use of a digital camera), Spotscreen take a different approach.
Spotscreen invested in the best technologies to ensure that your staff receive a best practice screening process designed to detect skin cancers in their earliest stages.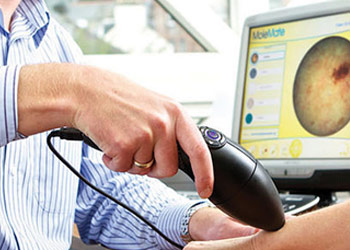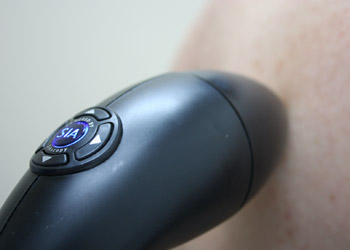 How Does It Work?
Spotscreen use multiple medical technologies to perform each assessment – this includes the use of a dermatoscope and a SIAscope Scanner with innovative 'MoleMate' analytics system.
This non-invasive system allows our certified Skin Cancer Screening Practitioners to look up to 2mm underneath the surface of the skin.
This significantly increase the ability to identify skin cancers in their early and more treatable stages.
The practitioner will simply use the device to emit light, which passes through the different layers of skin.
As the light interacts with each layer of skin, the scanner is provided detailed information into the state of these layers.
From this information, detailed scans are produced which are then displayed in a digital format through the innovative analytics system.
Examples of images produced during a Spotscreen SIAscope mole scan:

Spotscreen's experienced Skin Cancer Screening Practitioners then interpret these scans to identify if the mole or spot is harmless or at a risk of being cancerous.
Any scans taken are saved and mapped to your individual patient file. Spotscreen will securely store these images which can then be used for comparison in future screenings with Spotscreen.
On the occasion a mole or spot presents as being suspicious, your Spotscreen Practitioner will provide you a referral to your GP or local Skin Clinic.
Your patient file with images of your scans can be emailed to yourself or your GP so they can review these images during your referral appointment.
Proof is in the Results
The technology has been evaluated in three clinical trials which has seen more than 1500 patients assessed with the system.
In a substantial UK primary care trial, the rate of Sensitivity (True Positives) and Specificity (True Negatives) were an amazing 94% and 83% respectively.
This compared very favourably to benchmark rates from General Practitioners using conventional techniques as results showed the rate of Sensitivity (True Positives) being 67% and Specificity (True Negatives) at 76%.
Sensitivity
MoleMate
Clinical assessment alone
Specificity
MoleMate
Clinical assessment alone