Tradies – Fit to Work
August 4, 2016
Posted by:

Spotscreen

Category:

Articles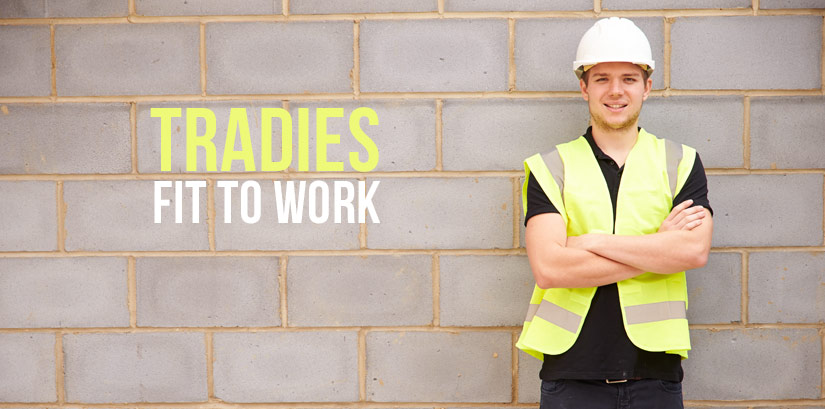 The Most Important Tradies Tool – The Body
For a tradesman, the most important tool they can have at their disposal is his/her body. And just like any other tradesman's tool, their bodies need to be performing at its best all the time. Repetitive movements and constant handling of equipment should be done with ease. This is why looking after their physical health and fitness is extremely important.
Did You Know?
Musculoskeletal injuries account for almost 90% of the serious work compensation claims of all occupations in the industry.
Maintaining a reasonable amount of muscular strength and endurance, specifically the upper & lower limbs and core muscles is vital for every tradie.
Flexibility is also another important aspect of physical fitness for a tradie. Lack of flexibility, tight muscles and restricted range of motion in the joints can have a negative impact on their health and can directly affect his/her productivity at work.
Others risk factors that can affect the physical health of a tradesman includes:
Excessive body weight and body fat
Increased alcohol consumption
Increased Cholesterol and blood sugar levels
Poor nutrition and quality of sleep
Stress
Recommendations
In order for a tradie to improve muscular strength and endurance, it is recommended to perform resistance training 2 to 3 times a week. Resistance training activities could include the traditional gym, CrossFit workouts or F45 Functional training, or even Pilates exercises, which focus on core strength.
To improve flexibility and range of motion, tradies are recommended to perform stretches and mobility exercises 3 to 5 times per week. Ideally these exercises should be performed before starting any sort of physical work, but can also be done at the end of the day to help reduce muscle soreness.
Click here to download an exercise routine designed by Spotscreen's Lead Exercise Physiologist to help improve muscular strength and flexibility.
This is a sample routine of those which feature in The Ultimate Shape Up – Spotscreen's 12 Week Workplace Health Program.
How We Can Help
Spotscreen's Complete Health Assessments provide a comprehensive evaluation of an individual's overall health & wellbeing. The 60-minute assessment includes a detailed blood analysis (pathology) followed by an in-depth lifestyle & fitness assessment. Participants are then provided tailored advice and an action plan to assist on improving their health & wellbeing. For more information on how this assessment can benefit your employees and the workplace, visit our services or contact us to find out more.