5 reasons you should go meat free this week!
July 29, 2016
Posted by:

Spotscreen

Category:

Articles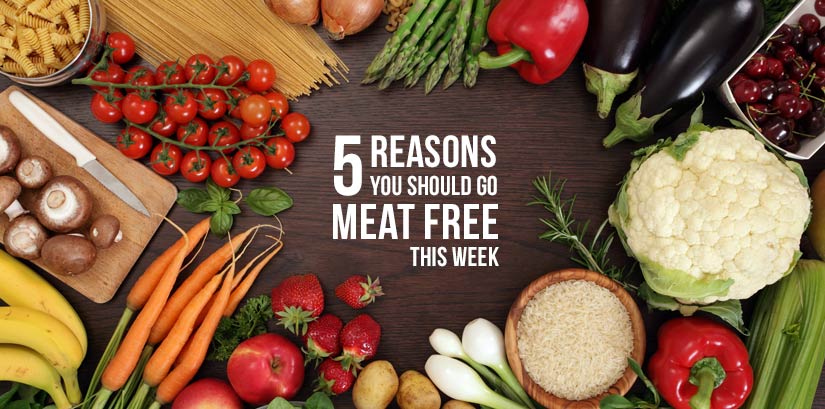 1. Fruit and Vegetables can make you happier
What if the health benefits of eating fruits and vegetables extended beyond the body to the mind? A major scientific study by researchers from the University of Queensland and the University of Warwick followed more than 12, 000 people who transitioned from a diet consisting of barely any intake to one that included eight portions per day. The result; eating fruit and vegetables not only reduces risk of cancer and heart attacks, but also increases happiness levels with each extra portion consumed.
Less than 10 per cent of Australians meet the current guidelines recommending five serves of vegetables each day and less than half meet the recommendation of two serves of fruit.
2. Less meat is healthier
Changes in diet and physical activity could reduce the number of bowel cancer cases by up to 75%. Studies show convincing evidence of increased bowel cancer risk with consumption of red (17% increased per 100g/day) and processed meat (18% increased risk per 50g/day). Eating whole foods can prevent and reverse chronic disease; providing essential vitamins, minerals, dietary fibre, phytochemicals and antioxidants protecting you from free radicals. Limit meat intake to <500g/wk.
3. Reduce your carbon footprint
Numerous reports conclude that farm animals generate more greenhouse gases than all forms of transportation combined, contributing huge quantities of methane and carbon dioxide. Maintaining the current quantity of animals for human consumption is therefore unsustainable and something we cannot support in the long term.
4. Legumes are cheaper
At only 80c per can (even cheaper dried) Chickpeas, lentils and beans are a great alternative to meat and a high source of protective dietary fibre. Do you still want that $22.00 per kg of beef rump?
5. Reduce your risk of bowel cancer
1 in 12 people will develop bowel cancer in their lifetime whilst taking the life of 77 Australians each week.
According to Bowel Cancer Australia; bowel cancer patients currently have a five-year survival rate of only 66%, dramatically less than that of breast and prostate cancer. Despite the rise in Australian deaths over the years, bowel cancer onset is preventable. Remember – early detection and preventative lifestyle measures, including screening and diet changes are key to saving lives.
Spotscreen offers bowel cancer screening and a range of tailored nutrition-based programs designed to support healthy bowels, nutritious diets and improved overall health and wellbeing.
For more information or to join us for a nutrition seminar feel free to view our health services.
[1] Bowel Cancer Australia 2013. Reducing Bowel Cancer Risk: Diet and Lifestyle.
[2] Australian Bureau of Statistics (ABS). 4338.0 – Profiles of Health, Australia, 2011-13. [Online]. Available at: http://www.abs.gov.au/ausstats/abs@.nsf/Lookup/by%20Subject/4338.0~2011-13~Main%20Features~Daily%20intake%20of%20fruit%20and%20vegetables~10009#, last accessed July 2016. [3] Public Health England. New National Diet and Nutrition Survey shows UK population is eating too much sugar, saturated fat and salt. [Online]. Available at: https://www.gov.uk/government/news/new-national-diet-and-nutrition-surve…, last accessed July 2016.