Meet Our Nutritionist, Marija
September 29, 2016
Posted by:

Spotscreen

Category:

Articles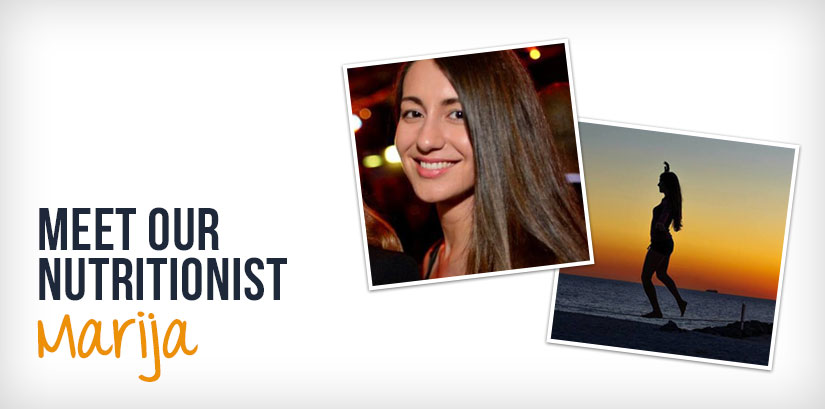 Marija Karanfilovska
Fuelled by fun, food and adventure!
Too often I look around to see a vast sea of puzzled faces, expressions of confusion and all because of something that should be second nature to us; food. Why is that so many find the thought of planning a meal or simply making a food purchase cringe worthy, why are we intimidated by what we eat?
Seven years ago, I decided to study nutrition. My curiosity and desire to question all that I see and understand all that I feel brought further insight into my own bodies' workings and eventually, the foundational workings of ones relationship with food. Teaching people to eat for them, based on sound science – was what I wanted to do.
Enthusiastic by nature and whilst sustaining a highly active sporting lifestyle I came to the realisation that I, like many others was taking my body for granted – I took for granted my body's ability to move as it did and accepted that it would do so unflawed forever.
The truth; our body is one whole integrated system working in unison and in reality it would not take much to offset that balance.
Balance is all about what we need for us as individuals – finding what centres us and fuels us to be the best we can possibly be. Awareness of the habits that make us and the habits that break us, nourishing our bodies with the food it needs leads us in the direction of everlasting wellness. Six years on, what I do and what I continue to learn about food science still matters a whole lot to me and if you are reading this, I suspect it matters to you, too.
I am truly passionate about educating healthy nutrition habits to the wider community and therefore completed a Bachelor of Health Science Major in Nutrition. I am currently studying a Master of Nutrition and Dietetics. I have spent the past 4 years working as a nutritionist across all areas of public health including voluntary organisations, corporate health, and program development and also as a group facilitator, implementing presentations, education workshops and cooking demonstrations. I have a particularly keen interest in both sports and early childhood nutrition.
My goal is to continue to practice what I preach and to inspire others to do the same with ease, in an ever changing environment. At Spotscreen I have the capacity to inspire healthy eating by developing practical resources and tools to help you navigate your way around the world of food. Your role is to not undercover the overriding "truth" regarding nutrition, but to feed yourself faithfully, get comfortable with food, discover what is true for you, and enjoy it!

Spotscreen has a range of engaging and informative nutrition based programs to help employees develop a more positive relationship with healthy eating. These programs are delivered by Marija and can be tailored to meet the specific requirements of your worksite and staff demographics.
With National Nutrition Week commencing 16 – 22 October, we encourage you to implement a nutrition program in this week to generate awareness and a healthy eating culture in your workplace.
Bookings are limited! Contact us now to secure your booking.