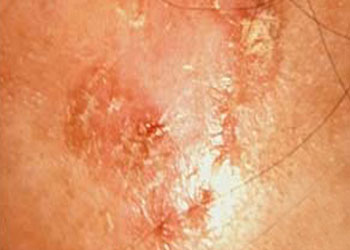 Symptoms of Solar Keratosis
Pink or red patches
Flat or crusting areas of skin which are pink or red or a combination of both colours
Can be scaling or scabby
Can be crusting
Can have small red or pink raised bumps
Can be areas of white and yellow crusting skin
Can have small brown freckles or multi-coloured patches of skin
May be itchy, tender to touch or will spot bleed
Treatment
There are three key tips dermatologists recommend for reducing up to 70% of Solar Keratosis without medical treatment.
Exfoliate with mitt or a shower towel. During your shower use a small amount of liquid moisturising or non-soap wash with the mitt to firmly scrub the whole surface of your skin. Repeat this every day for a week.
Once dead skin is scrubbed away, use a rehydrating or moisturising cream containing Vitamin D. This will repair your skin cells overnight.
In the morning apply SPF 50+ daily moisturiser to your face, neck and ears and the 'V' area of your chest. Then apply an SPF 50+ sunscreen to all the areas of your body that won't be covered with clothing.